December 29, 2014
The Fish Wives of Barabinsk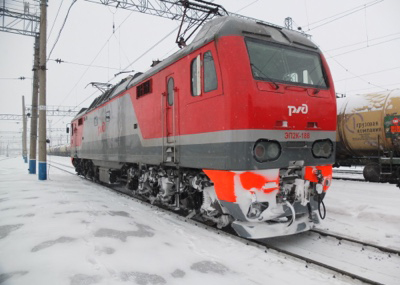 Morning! 06.53 Moscow time. Happy Christmas from Barabinsk, where it's lightly snowing but pretty warm at -3 C. I didn't plan to be in Barabinsk on Christmas morning, but that's only way to make my connection with the ship in Vladivostok..
I'm doing my best to be Christmassy here today, but it's a fairly solitary experience. "Official Train Christmas" is actually not until next week, as the Russian Orthodox Church has varying dates. I have a bottle of Russian champagnski on ice and also some mince pies (Marks & Spencer's finest!).
Chef has cooked me some chicken but I'm getting all excited just thinking about a real roast dinner right now.. In passing I have discovered a stash of Kozel beer in the restaurant – both light and dark versions – pretty good at 150 Rubles a can.
In the a afternoon I opened a "Red Cross Parcel" that I had been keeping to mark the occasion – generously supplied to me personally by the President of the Edinburgh Explorer's Club and handed to me before I left, in the front room of Sir Ernest Shackleton's home. I discovered that it contained miniature bottles of vintage port and cognac together with a Christmas pudding from Prince Charles' estate, Ovaltine and even a tin of Coleman's mustard powder! – a huge morale boost.
I have performed my Santa duties and presented the three people that I depend the most upon with a little gift – the two carriage no 7 provodnitsa's and the restaurant manager, who has immediately saturated my table with jams, chocolate and satsumas grown in a province of southern Russia that I cannot pronounce. A little bit of hospitality seems to go a long way out here.
Perhaps incredibly I seem to have slept quite well again last night. My bed is comfy, and the gentle sway of the train soon sends me to sleep. The temperature is pretty constant at about 26 C in the corridor, but 21 C in my slightly illegally ventilated compartment. The ride of the train is smooth and the brakes don't throw you out of bed like on the Trans-Mong, probably because of the regular de-icing.
We stopped for a full 30 minutes in Barabinsk. I'm not quite sure why, as other than the usual procedures there was not much going on. The main activity on the platform appears to be trading in fish and fur hats. There are lots of fish. They are caught through holes in the ice from nearby lakes. This is more famous in Irkutsk, where the fish come from Lake Biakal. I can only assume Barabinsk is trying to improve its fish credentials to rail travellers. I'm surprised not to be targeted by the crowd of fish women, but they must have realised that the chances of a European wanting a smelly dead fish in his compartment is slight. It's obviously in demand by the locals though.
Rita, one of the fixers I had in Moscow, has put me off hot platform food. She told me that it's heated up in the station toilets and not very hygienic. This might be slightly alarmist, but it's a fair point to question how this food can remain hot for so long in this climate. Hopefully my supply of Rubles will allow me to dine at least once a day in the restaurant carriage. By way of example, last night I had a starter of herring and potato, a main course of pork shnitzel and a couple of cans of beer for 920 Rubles, about £10.
The shops on the platform are open for the sale of last minute Christmas gifts. The only proviso is that you must be after a pot potato or some sort of kitch local trinket. They don't seem to be doing much business and I can only assume people are holding back for the January sales.
For the first time today Larissa called me back onto the train. I don't think she would deliberately leave me behind, but neither would she hold a roll call before sealing the door. The trick is to remain not too far away for the final few minutes before departure. The smokers are masters of this. Today this includes an English speaking Romanian coffee trader called Alex, who got on last night and is going as far as Irkutsk.
I have had the map out in my office this morning. I am surprised by the speed of our progress, as we reach Irkutsk tomorrow night – that leaves three further full days to reach Vladivostok. This is partly the effect of Moscow time, but maybe also the line is slower on the final stages of the journey. What I have realised is that I'm going to miss seeing Lake Baikal, as we will be passing its shores during the night. That's a shame as its hugely impressive – like a frozen sea. I haven't been calculating the distance each day this trip, but I can see that I have now got around 8000 km under my belt. It's amazing how much ground you can cover even at a slow speed by travelling day and night with only a few stops.
Can I take this opportunity to wish you and your family a "Happy Christmas" from wherever you might be reading this.