December 29, 2014
Ice Cold in Irkutsk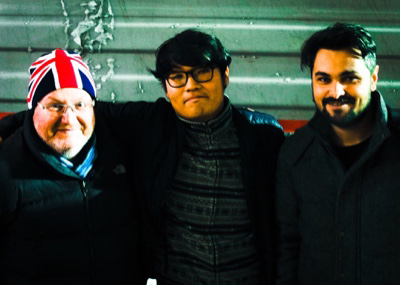 It's been a great end to the day, but tinged with sadness as we say goodbye to Alex here, who is getting off to spend a couple of days exploring Lake Baikal before travelling on to Vladivostok. He has been a welcome member of our 002 Trainspotting Club.
It's properly cold now. As you breathe the air you feel it drying out your windpipe and chilling any unwrapped extremities pretty fast. I haven't seen a thermometer this evening, but will keep an eye out. Last year I encountered – 38 C here, but it's nothing like that tonight, maybe – 20 C.
I had a dish for dinner in the restaurant that was loosely based on a dead cow – probably for the last time, as it does not really taste of anything other than the tomato sauce that I disguise it in. It is the most expensive dish on the entire menu at 550 Roubles (£5.50). I was watching "Marooned" with Ed Stafford on my iPad last night. He eats raw bugs and critters for a living, but I don't know what he would make of this beef dish.
Apart from that minor niggle, the restaurant is a great place to meet people and get hopelessly lost in the language barrier. The restaurant manger now also has a rather glamorous assistant who speaks not a word of English and wears heavy makeup and a skirt far to short for her age. The spirt of glasnost lives on here as I got treated to an unexpected complimentary starter tonight of Russian sausage and a cheese of unknown origin.
In other train news, a slightly hung over Taeguen having got shot of the soldiers, now has some Ukrainian cabin mates who continually ply him with vodka and food. It's rather amusing to see how polite and nice he is about it, but secretly I know that he longs for a different compartment. I met them on the platform in the evening, where many photographs were exchanged and offers made about all sorts of entertainment back at their place later on. I think they have kind hearts, but probably enlarged livers.
The Germans who moved in next door are off to Lake Baikal tonight (Slyudyanka station), so who knows will be next door in the morning. Of course they spoke perfect English, as I should have guessed, and I wish I had made more of an effort to be social with them. Happily though I managed not to mention John Cleese, Fawlty Towers, or my recent trip to Poland.
Larissa has managed to get the second toilet up and running again. I didn't want to worry you, but it's compressed air system has been misfiring and it had become prone to blockages and occasional backfires. You know when this has happened as a noise like a Doodlebug engine reverberates down the corridor. Fingers crossed it's now okay.
In passing, I should perhaps mention that our toilets are kept absolutely immaculately in this carriage. The only frustration are the third class passengers who nip in to use them. It's all about wear and tear on the Trans-Siberian. In "plaskart" you have over 70 people sharing two bathrooms. In "kupe" it's 36 and in First Class it's just 18, or 9 people per bathroom if every compartment is full. It's the same type of bathroom, but more available and cleaner with much lighter use..
I'm going to retire with a movie and glass or two of Spanish white wine shortly. The grape variety is "Airen" – I have never heard of this, but will look it up when I get home. Having a secure cooled wine cellar at the end of the carriage is an unexpected bonus. I don't think the other passengers know anything about it, or have any wine to put in it even if they did.
I have discovered today that the crew accommodation has a microwave oven. This would not normally be of interest, but I now have a Christmas pudding here (a gift from the Edinburgh Explorers Club) and I'm wondering if we can do a deal tomorrow…
As for the ice cold beer in Irkutsk, it was a Kozel. Sadly there was no condensation on the glass a la John Mills, but it was still much enjoyed. Most of the locals don't drink their beer out of a glass, so this must mark me out as either a tourist or a first class passenger.