September 30, 2014
Turning Japanese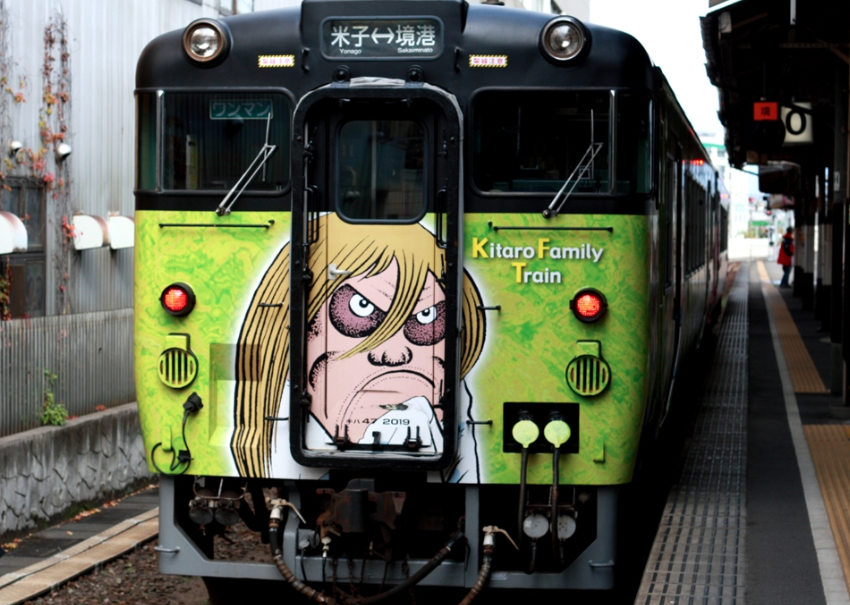 The Yonago "manga train" courtesy of lowco2motives
Apologies for not posting recently. I have been swithering a lot about my next trip, and today I have made the final decision. I need to update the "departure board" to read "Tokyo via Vladivostok"!
If you have not read my recent blog posts, this winter I had hoped to travel through Central Asia, taking advantage of the route out of Russia and through Kasakhstan. I encountered several problems planning and researching this journey. Firstly that travel to the other Stans was looking like hard work by train – not impossible, but for example, there is just a single weekly train connecting Tashkent and Almaty, and limited certainty of getting a ticket on it.
Secondly that the security situation on parts of this trip looks like they are getting worse rather than better – significant terrorism in Xinjiang, moderate levels of corruption in some of the Stans, and now even unrest at my planned objective, Hong Kong. Thirdly, I discovered the train to Almaty isn't as good as Seat 61 suggests, nor is the train to Astana.. (no first class) – it wasn't a deal breaker, but adding these points together it feels like hard work. Sometimes you just have to follow your gut feel, and this now feels like a trip for another time. My "Man Who Would be King" plans are therefore on hold, for the time being anyway.
So that takes me to "Plan B" – across Siberia (once again), and onward to Vladivostok, then by ferry to South Korea and Japan, finishing up in Tokyo. With my train anorak hat on, it is the longest scheduled train service in the world – taking nearly seven days from Moscow to Vladivostok. I understand that sometimes there are two carriages on this train that actually go on southward to Pyongyang, but even if I fancied this run, it is currently barred to non North Koreans (you have to enter North Korea via China). For my trip I plan to use the "Rossiya" train, which is supposed to be a good one. In Russian trains, the lower train numbers are the better quality "fermeny" services – this train is numbered "002" ("001" runs West bound on the same route). It will be strange travelling for a week without having to deal with customs, borders and visas.. or change wheels!
I had been working on this plan for several days, and just when everything looked like it was "on", my agent in Moscow was informed that the ship that sails to Japan once a week from Vladivostok would in fact not be doing so on my requested dates. It is also about to change its schedule that means an earlier weekly departure (Tuesday) and stopping off in Korea. Just as well we checked! I think this has now been overcome, and I'm waiting for confirmation that since last week it has not decided to re-route again. The ferry is Korean, and looks quite bizarre (hopefully in a fun sort of way). As for my stay in South Korea, I have a cunning plan that should be quite interesting too if everything works out.
The only other train problem I can foresee is the imminent closure of some of the Euro Nightline services – this might mean the loss of the brilliant EN447 "Jan Kiepura" service that travels every night from Amsterdam to Warsaw. If this is the case I have a contingency of getting a day train down to Cologne and then getting a night train from there to Warsaw.
To be honest I'm relieved to have made the decision on the trip – for the last few weeks its been frustrating not being sure what to do, and now I have made the decision, I can just get focussed on pulling the plan together. To quote Lao Tzu "the journey of a thousand miles begins with one step" How true.
I will keep you posted as I go into full steam ahead trip preparation. Or is that full diesel-electric trip preparation?