January 2, 2014
Pho Metal Jacket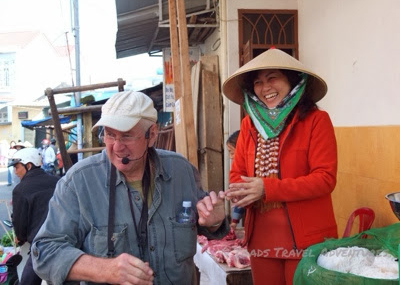 Up at 06.30 today for another culinary adventure! This time it was a taste tour of Hoi An, run by a lovely retired Aussie couple, Neville and Colleen. They have moved to Hoi An and have an encyclopedic knowledge of every possible type of food and the best place to try it. Neville is seen here chatting up one of the many characters we meet along the way..
So I spent the morning meeting interesting locals and sampling dishes – 44 in all. I will just share a few discoveries here.. (and this isn't the order I ate them in). Pictured here is one of the locals – "Jimmy" who is an ARVN veteran. He lost his left foot in the American War, so he walks around on a wooden stump. He is a man of few words, but as part of his unofficial diplomatic duties, he escorts us around the "Tiger market" like a sort of proud Vietnamese Uncle, if you can imagine that you had one.. (NB I didn't actually see any tigers though).
"Pho Bo" – the famous breakfast dish of beef and noodles – "self assembly", and I also added lime juice, chilli sauce, fish sauce and soy sauce.. Get the quantities right and its food heaven!
Madam Khanh is famous in Hoi An for her amazing "Banh Mi (Opla)" – a French bread type sandwich with egg. They call her the "Bahn Mi Queen" and she is something of a food celebrity. This is the closest thing you can get to a cooked breakfast in a bun – its a major discovery! Her simple street stall is a top recommendation for Hoi An restaurants on TripAdvisor. She has been in the same place for 40 years.. She planted the huge papaya tree that now provides shade over her stall. The results are utterly delicious and I need to do further research into the humble Bahn Mi!
Some "Bahn Xeo" (I think) in the Tiger Market.. A savoury crepe with pork, shrimp & bean sprouts.
The famous Cao Lau noodles being dried in the sunshine. The flavour comes from the local well water..
"Thit Nuong" is delicious street meat marinaded in lemongrass, turmeric and honey.
Ice cream from a local street vendor – our group got through about 30 of them – coffee, coconut and even Red Bull flavour!
My job now is to spend a few days eating in the very best places for each of the dishes I have discovered. It's going to be hard work.. A top tip from Neville is that "yummy" (a natural reaction to most of the food) is a vaguely rude word here – "its delicious" is a better alternative and sounds like "nong lamb"..
Neville makes my day with his passion for Vietnamese food. At the same time it's rewarding to see how the locals warm to him. I was also touched to find out how he raises money for Agent Orange victims, and everyone on the tour helps out a little bit with this.
If you are ever in Hoi An, this is a must do!