December 28, 2013
T5 from Beijing West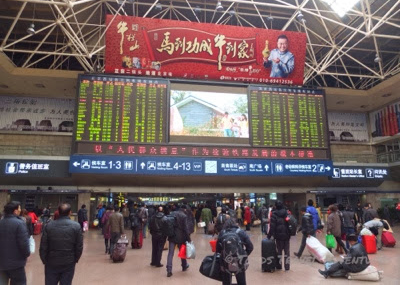 I'm on the train. Its massive – at least 20 carriages long, mainly consisting of second class hard sleepers (with the population of a small town settling in).
It was a bit of a leap of faith getting this far as the system of waiting rooms, ticket check ins, scrum downs and carriage numbering are pretty alien to my Western brain. I'm in carriage L2. Where do you find that that when they won't let you on to carriage number 2 and you only speak three words of Mandarin? The answer I discovered is that it's at the slightly posher end of the train, after carriage 11..
Beijing West is a pretty big place, with whole armies of people moving in all directions. It's immediately clear that my international ticket provokes a reaction of misunderstanding in the eyes of almost all but top brass ticket inspectors – it just looks so different from a normal Chinese ticket. You have to show both ticket and passport to enter the station, then again in the vast waiting room, so to begin with I had to wait whilst the supervisor got his boss to look at it whilst it felt like I had half of the population of China in a scrum behind me.
If you read the detail over on Seat Sixty One you will discover that they don't even sell this ticket in the ticket office at the station – there is a special place in Beijing that you have to go.. Whilst I'm on the subject of the ticket, it has been issued in two parts – Beijing via "Pingxiang" to Dong Dang and then from Dong Dang (the Vietnamese border) to Hanoi. When I first looked at it I thought I was actually going to "Pyongyang", as its hand written! Another time perhaps.
I eventually persuaded a sceptical woman inspector that I could be suitable material for the soft class lounge – my ticket is second class soft, so a four berth cabin. I understand there is no first class on this route (and I will be mildly annoyed if I find some!). Only one or two carriages of the T5 make the crossing, becoming the M2 on the Vietnamese side. More on this to come as it sounds like an interesting border.
I'm settling in to my new home right now – really comfy beds, carpets and of course a heater to raise the temperature to that of the jungle. No space big enough to store my case here, but complimentary rubber slippers and chop sticks are provided – surely an auspicious sign? My first impression of the guards is that they are helpful and professional. I suspect they are used to dealing with Westerers, but interesting that I have not spotted a single foreigner in the whole of Beijing West railway station, and none on this train. Where are they hiding?
It looks like the guards have a system for reallocating cabins, and I think I might be lucky as they have removed a couple of potential cabin mates from my compartment. I don't want to sound anti social, but I'm adjusting my personal space again after three days in a hotel room that has a super king bed wider than than the whole carriage..
I have just realised that I have no idea where and when this train is going to stop. I remember that I'm going to have to get off for some shunting in Nanning tomorrow night, but it's going to be a magical mystery tour up until then. I think it goes to Guilin first. There is a timetable in my carriage, but it's more likely that I might decipher the Enigma code than work out where I am going next on this train! I do have a map saved as an image that I prepared earlier though..