December 4, 2012
Trans-Siberian bathroom survival skills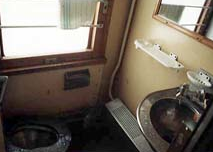 Trans Siberian 3rd Class train toilet (image courtesy of Way to Russia)
The subject of slightly unsanitary bathrooms on dodgy trains seems to be a popular one. I have heard much about this including some words of insight and wisdom. Please don't read this blog unless you have already had your tea today..
The quality seems to vary quite a bit by train type and class of travel. The slowest and least popular Trans-Siberian trains probably have facilities something like the picture below in their 3rd class (quite similar actually to what I see sometimes on the East Coast mainline here in the UK!). Depending on your outlook, this might be (a) fine (b) survivable in an emergency or (c) the reason I will not be going on this train trip..
Trans-Siberian bathroom wisdom seems to include:But I think this image is unfair on Trans-Siberian bathrooms as a whole. I'm told by twice veteran Trans-Sib traveller Roger Worrod, that in 1st Class the Provodnitsa kept his thunderbox pretty clean for the journey, so I'm hopeful this will be the case on my trip too. You can read the story of his great adventures here.
standing well back when you press the flush lever – on older trains they can empty straight onto the track. This means a blast of steam and potential blowback as the contents of the pan are flushed with hot water (to avoid freezing) and the -40 C super cooled air from outside shoots back into the toilet..
knowing that the non vacuum type toilets get locked before arriving in stations and that overly enthusiastic Provodnitsas have been know to open the door with their special key and get people out!
having your own supply of soft toilet roll and good soap.
consider using train station facilities, especially at longer stops.
having your own sink plug, as they are not normally present.
On the plus side have a look at the picture below of the Chinese "business class" bathrooms on the run from Beijing to Shanghai. Quite impressive..
As you might expect I will report back on this subject. I have a checklist of key scoring criteria and will be judging the finest facilities on my trip.
1) Cleanliness – obvious..
2) View – herds of wilder beast sweeping majestically across the Mongolian plain?
3) Flush – vacuum or hole in the floor?
4) Squat or sit?
5) Space – enough room to swing a cat or similar Chinese creature?
6) Lighting – so that I can see my Telegraph crossword.
7) Aroma – finely scented through to a gas mask being mandatory.
I'll have to come up with an award for the best and the worst, and I have a working name for this in my head, but its not a very nice one!