October 12, 2012
Tooled up!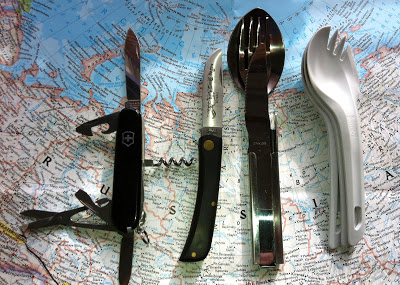 Trans-Siberian eating gear
Back from a five hour train trip to London yesterday. Five hours seemed a fair while, so wondering how five days might feel, or two weeks? I don't think its comparable as I didn't have all my stuff, and lets face it, there is hardly much interaction with other passengers on the 13.00 East Coast service from Kings Cross!
I thought you might like to see my small arsenal of eating irons. A minor Trans-Siberian packing point you might think, but not something I'm going to leave to chance.
Left to right – Swiss Army 'Climber" knife, "Sodbuster" Junior knife, camping KFS and selection of plastic "sporks"..
I was always going to bring my trusty black Swiss Army (Victorinox) knife with me, but then I realised I probably needed some other eating orientated weaponry. I bought the KFS from a camping shop – they are a bit heavy, but otherwise good. The Sodbuster knife, which I have now sharpened like a razor, will be for cutting through Russian sausage and platform food. The sporks are a "back up" plan – I could probably get rid of them, but you never know..
All the above are street carry legal in the countries I will be visiting. The Sodbuster is 2.75 inches (7cm) long and does not lock – these are the two key factors in determining legality in the UK, but also in much of the rest of the world, from what I have found out.
I purchased a special Japanese whetstone to sharpen knife blades (from Global knives) and have followed plenty of advice – one side of the blade at a time, a 14 degree sharpening angle, then repeat on the other side once you have an "over sharpened" effect (I think its called a "wire") on the first side. It seems to have worked well, so I'm going to be careful not to accidentally cut anything important off, as the first aid kit on the train is, I understand, to be quite basic.