September 8, 2018
The Sofya – Istanbul Ekspresi
I keep thinking of this train as the mythical 'Midnight Express' from Alan Parker's 1978 film, which made a big impression on me when I was old enough to watch it. But there were of course no real trains in that film. For Istanbul train based films you have to look to James Bond ('From Russia With Love') or Hurcule Poirot ('Murder on the Orient Express').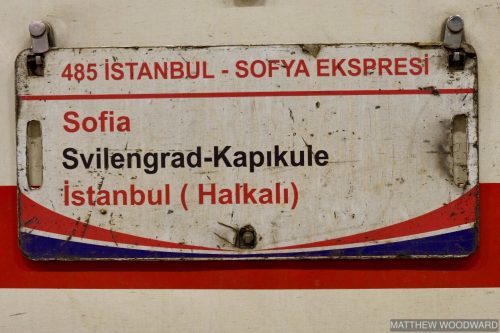 Sofia station seems to be a good place to me. It's a large, slightly brutal, Soviet inspired building, but it is clean and seems safe. Getting a ticket for the Istanbul train proves very simple once I have located the hidden counter 22. If in doubt start at counter 23, and it will all work itself out. The platforms are mainly under the station and each is described as East/West (in crylic) by a letter after the platform number, which is really just indicating the position on the same long platform.
Tonight the platform for the Istanbul train was announced about 40 minutes before departure, and there on platform 4 was the train, made up of a mixture of Turkish and Bulgarian carriages. At the front were four similar looking modern Turkish coaches, most looked like sleepers (2 berth), but maybe a couple of them were actually couchettes (4 berth). Outside they all look the same.
The Bulgarian loco hauling the train tonight for the first stint was ancient, and could be part of a vintage train restoration rally. The driver spoke a little English and seemed like the sort of person who was used to fixing things designed for Stalin.
The two white polo shirted Turkish carriage attendants were very professional, but at the same time enjoyed a joke or two, which is just as well as the passengers were a wonderful mix of nationalities – Japanese, Portuguese, Russian, German and Turkish amongst others. Many were students on their first Istanbul adventure. I recognised several of them from Serbia, and it was nice to share the next leg of the trip with the 'Balkan gang' on such a wonderful train.
On board the sleeper, the first class compartment is a two berth set up, with one above the other. The lower berth pulls down too, so it is a proper bed, both wide and comfortable, and bags of pressed bedding are supplied complete with smart Turkish rugs. But the big news of the night was the 'kitchenette'. I'm calling it a kitchenette, as each two berth 1st class compartment has its own fridge, and a big table top complete with a further table that sides out, presumably for late night kitchen supper parties.
This really is taking comfort to a new level, especially if you have brought your own picnic. Added to this, the compartment has a good air conditioning system , with a heating set up that can be adjusted but also isolated, giving you just cool air. The window also opens. Sleeping carriage nirvana!

There was a bit of a party atmosphere on board, and I felt very safe and comfortable to be amongst the passengers on this train. At one point a very nice Turkish woman knocked on my door and asked me if I was Russian. I asked why she might think that. She had checked the manifest and there were several Russians on board, and she expected them to have a surplus supply of vodka! If we were not getting up at 02.00 I would have joined her in her quest.

The only snag with this train is one of timing. The train departs at 21.15 from Sofia, and really you need to be disciplined and go to bed immediately, as between 02.00 and 04.00 you are up dealing with officials on the Bulgarian border and then the Turkish border at Kapikule. You then get to go back to bed until around 08.00 where the train currently terminates at Halkali station on the outskirts of Istanbul. Here there is a bus transfer into the city which drops you outside the original Sirkeci station terminal building.

You might wake up in the morning and vaguely remember a dream about getting off the train at the Turkish border. The process takes about 30 minutes for passports to be inspected and stamped. Your luggage stays on the train, so its just an amble over to the immigration office, a stamp in your passport and back to bed. There seemed to be no interest in my paper e-visa – I can only assume that their system just shows that I have one when they scan my passport.

Halkali station is currently a massive engineering project, and as the footbridges have not been finished, getting from the train to the bus involves a 10 minute walk through the building site, and no hard hats are provided. The bus transfer is included in the ticket.

This route is only going to get better now as the line engineering works get completed. It is already much better bet than two years ago, when I last made the journey (from Bucharest) – back then there was a five hour bus journey from the Turkish border at Kapikule. I have to mention that as a young man I remember InterRailing here a couple of times from Greece (now no longer possible) – back then the train rounded the Golden Horn and terminated in the wonderful Sirkeci station, now a railway museum. This was the ultimate way to arrive Istanbul for the first time, and I wrote a little about this experience in my first book 'Trans-Siberian Adventures'.


Fatal error: Uncaught Error: [] operator not supported for strings in /home/papajkac/matthew-woodward.com/wp-content/themes/layerswp/core/helpers/post.php:81 Stack trace: #0 /home/papajkac/matthew-woodward.com/wp-content/themes/layerswp/partials/content-single.php(81): layers_post_meta(4748) #1 /home/papajkac/matthew-woodward.com/wp-includes/template.php(724): require('/home/papajkac/...') #2 /home/papajkac/matthew-woodward.com/wp-includes/template.php(671): load_template('/home/papajkac/...', false) #3 /home/papajkac/matthew-woodward.com/wp-includes/general-template.php(168): locate_template(Array, true, false) #4 /home/papajkac/matthew-woodward.com/wp-content/themes/layerswp/single.php(20): get_template_part('partials/conten...', 'single') #5 /home/papajkac/matthew-woodward.com/wp-includes/template-loader.php(78): include('/home/papajkac/...') #6 /home/papajkac/matthew-woodward.com/wp-blog-header.php(19): require_once('/home/papajkac/...') #7 /home/papajkac/matthew-woodward.com/index.php(17): require('/home/papajkac/... in /home/papajkac/matthew-woodward.com/wp-content/themes/layerswp/core/helpers/post.php on line 81